Download 50 IELTS Samples Essays Task 1 And 2 book. These IELTS Samples Essays Will help you to understand what is necessary in order to write a great essay.
50 IELTS Samples Essays Task 1 And 2
This collection of sample answers is intended to help you understand what is necessary in order to write a great essay. All of these answers have been written by a native speaker who is also a professional writer and IELTS trainer with more than ten years of experience.
It is important to note before we begin that these answers are not the only way to score band 9. Whether you study English, Korean, Arabic, Spanish, or any other language, it is important to note that there is more than one way to express yourself. If we gather 1,000 professional writers, they would produce 1,000 different IELTS essays.
The fifty answers in this book have been written in order to guide IELTS candidates to the most effective means of composing an essay. They show how to fulfil the requirements of the marking rubric without using overly complex language.
In fact, that is one of the most important things that you should remember. Accuracy and range are more important than using "difficult" language. The best way to approach IELTS writing is through common sense. You could broadly categorise any good approach to an IELTS essay like this:
Analyse the question.
Structure your answer.
Write your essay.
Check your writing.
Obviously, the hardest part is #3 because there is so much to consider. However, it is important to note that you do not need to achieve perfection in your essay. You just have to make it very good.
When it comes to structure, I always tell people to keep it simple. Do not try to reinvent the wheel. Every task 2 essay requires an introduction and conclusion, as well as two or three body paragraphs. Your structure should look like this:
Introduction.
Body paragraph 1.
Body paragraph 2.
Conclusion.
The contents of your body paragraphs will be determined by the requirements of the question. If it is "discuss both views" question, then your essay will devote one paragraph to one side of the argument and one paragraph to the other. This is also a great way to add balance to your essay – but remember that balance is not necessary. It is also acceptable to offer a strong argument.
For task 1, you have a little more freedom. You should write an introduction but what follows may be one or two or three paragraphs. It completely depends upon the information that you are presented with. However, you should note that a conclusion is not necessary.
Conclusion
The sample answers in this book should help you to understand the construction and execution of a very good IELTS essay. Do not think that these are the only ways to do it. They are intended as models to help you but ultimately the process of planning and writing an essay comes down to one person – you.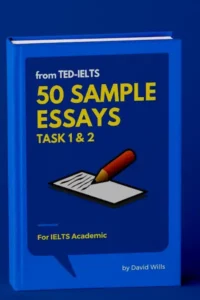 Or