Before you dive into the test, it is recommended that you take a GMAT test practice first so that you can understand what to expect on GMAT.
In this article we will discuss everything about GMAT test, structure, preparation, materials, and scores.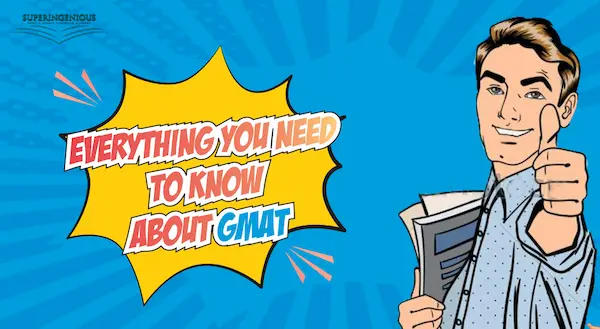 About GMAT
The GMAT exam has been the most extensively used exam for MBA admissions for over 60 years. Taking the GMAT exam will help you stand out during the application process. Take the one business school exam that will set you apart from the crowd.
What is the GMAT exam?
The GMAT (The Graduate Management Admission Test) is a standardized exam that is frequently needed for admission to graduate business programs (MBA) around the world. It is a multiple-choice, computer-based, and computer-adaptive exam.
What does the GMAT test for?
The GMAT exam is meant to test critical skills for business and management programs. It evaluates analytical writing and problem-solving skills, as well as data sufficiency, logic, and critical reasoning abilities, all of which are crucial to real-world business and management success.
Who owns the GMAT?
The Graduate Management Admission Council (GMAC) created and administers the GMAT to give business schools with standardized evaluations of applicants' readiness for graduate-level academic work.
Your GMAT score, as well as your work experience, academic record, and supporting papers, are used by business school admission committees to judge your suitability for the rigors of an MBA program.
Is the GMAT test hard?
Only 6% of GMAT candidates score 720 or higher, despite the fact that over 200,000 people take the exam each year. From these data points, we may deduce that the GMAT is a difficult exam to pass, and that scoring 700 or higher requires a lot of effort.
How many times can i take the GMAT test?
You can take the test up to five times per year, but only once every 16 days.
GMAT Exam Structure
The GMAT Exam is divided into four sections, each with its own time limit. During the exam, you will have the option of taking two optional eight-minute breaks.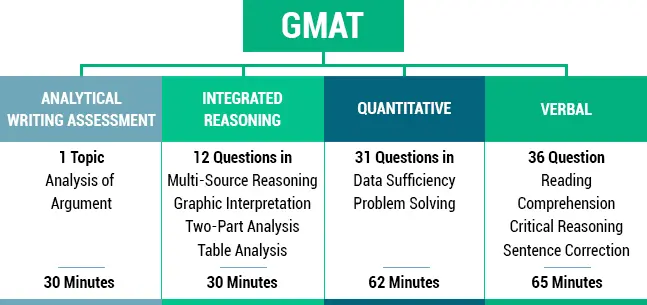 The GMAT Exam Each Section Ability Measurement:
Here is what  does each section of GMAT measures.
1- Analytical Writing Assessment
Determines your ability to think critically and share your thoughts.
2- Integrated Reasoning
Evaluates your ability to assess and examine facts offered in a variety of ways.
3- Quantitative Reasoning
Evaluates your ability to use thinking abilities to examine evidence and draw conclusions.
4- Verbal Reasoning
Evaluates your ability to read and comprehend written content, evaluate arguments, and edit written material to adhere to standard written English.
GMAT Preparation
The GMAT is one of the most important steps in your journey toward a target MBA degree. That's why it's important to take it seriously and prepare yourself for the exam.
Here we will provide you with some great tips from leading experts on how you can best achieve success before, during, and after the test.
How long does it take to prep for GMAT?
For the most part, studying for the GMAT should take two to three months and 100–120 hours of subject review and practice. On average, top GMAT scorers spend 120+ hours studying for Test Day over a period of time.
How should I prepare for GMAT?
Take the word of GMAT test takers and follow these best practices:
Start preparing for the GMAT exam at least six months before the test date. If you are somewhat familiar with the underlying GMAT exam topic, most test-takers say that a minimum eight-week study timetable is appropriate. However, you are the greatest judge of how much preparation time you require.
One section of the test at a time should be reviewed and studied.
Refresh your math abilities.
Time management is essential for passing the GMAT exam, so practice pacing.
In the Analytical Writing Assessment, Integrated Reasoning, Verbal, and Quantitative Reasoning sections, review the different types of questions.
Use the free GMAT Official Practice Starter Kit and Exams 1 & 2 to familiarize yourself with the format of the actual exam – and the questions asked – as well as two free computer-adaptive GMAT exams.
Use GMAT Official Practice Exams 3, 4, 5, and 6 to supplement your preparation with more questions.
Using the GMAT Official Guide, practice with genuine GMAT questions, answers, and explanations.
Examine the GMAT Official Guide Quantitative Review or the GMAT Official Guide Verbal Review.
Use GMAT Official AWA Practice, GMAT Official IR Practice, and GMAT Official Quantitative Practice diagnostic and adaptive practice for quantitative reasoning to focus your preparation on a specific section of the exam.
What is the best way to prepare for GMAT?
The best way to prepare for GMAT is through these top 10 GMAT study tips to get you started on your way to achieving your business school dreams.
Make a GMAT study strategy as soon as possible.
Know the sections of the test and include them in your study strategy.
Choose your GMAT study materials carefully.
Recognize your GMAT flaws (and work on them).
As part of your GMAT preparation, keep track of time.
Don't get bogged down in a GMAT question.
On the GMAT exam, use the elimination procedure.
During GMAT preparation, practice visual literacy.
As part of your study strategy, work on improving your mental math.
Advanced Questions will test your limits.
Which GMAT prep book is the best?
There are a lot of new GMAT prep books coming out every year, so it's hard to separate the wheat from the chaff.
So we've compiled this list of the best GMAT books for 2022 based on real-world data to help you find out what's best for you.
GMAT Official Guide 2022 Bundle
This official GMAT study book bundle is a must-have resource, as it includes a general exam guide as well as guides for the Verbal and Quantitative sections of the exam.
Over 1,900 practice questions and answer explanations are included in this well-reviewed bundle.
You'll learn how to think critically about questions so you can develop effective testing procedures, and you'll be able to measure your progress.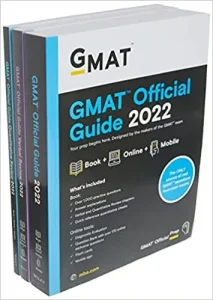 Manhattan Prep's All the GMAT Bundle, 7th Edition.
This popular, albeit pricey, GMAT resource condenses knowledge from the 10-volume "Complete GMAT Strategy Guide Set" into just three volumes.
Students will find hundreds of practice problems covering both the Quantitative and Verbal portions, as well as a range of tactics to aid them on test day.
In addition to scheduling advice, interactive video lessons, and six computer-adaptive GMAT practice exams, these GMAT prep books include six computer-adaptive GMAT practice tests.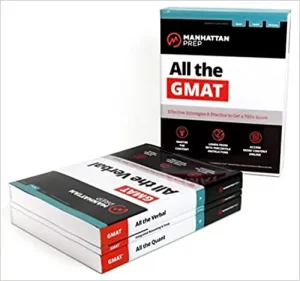 Kaplan's GMAT Prep Plus 2022-2023
This new GMAT prep book includes over 350 practice questions written by specialists, making it an ideal alternative for students who wish to acquire and hone established test-taking tactics.
Users can take six online GMAT practice exams that are computer-adaptive and examine full answer explanations.
All of the strategies have been put to the test by students. Kaplan even promises that the book will improve your GMAT score or your money back.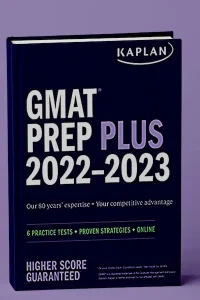 Mometrix's GMAT Prep Book 2022-2023
The most significant concepts, vocabulary, and principles underpinning the writing, logical organization, math, and verbal components of the GMAT are explained in Mometrix's newest GMAT prep book. You'll get a full-length practice test and in-depth answer explanations with this book.
You can also watch online videos in which professionals deconstruct different aspects of the GMAT.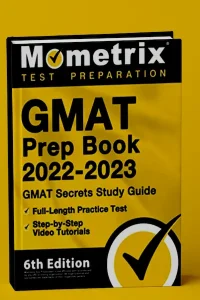 GMAT Official Advanced Questions
This official GMAT practice guide, geared toward top scorers, focuses on only the most difficult questions from previous exams. You'll get 300 challenging GMAT practice problems with solution explanations with this guide.
An online question bank and a smartphone app are also available to test participants.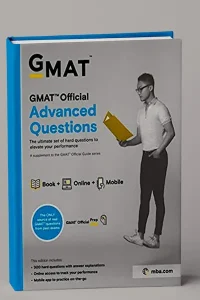 GMAT Scores
The following factors go into your GMAT score:
1- Analytical Writing Assessment
2- Integrated Reasoning
Score: 1-8
12 Questions

Multi-Source Reasoning
Table Analysis
Graphics Interpretation
Two-Part Analysis
3- Quantitative Reasoning
Score: 6-51
31 Questions

Data Sufficiency
Problem Solving
4- Verbal Reasoning
Score: 6-51
36 Questions

Reading Comprehension
Critical Reasoning
Sentence Correction
How is the GMAT score calculated?
Combining your subscores from the GMAT Quantitative Reasoning and Verbal Reasoning portions yields your overall composite GMAT score. Each component is assessed on a scale of 6 to 51 points, with the overall result being graded on a scale of 200 to 800
How MBA programs evaluate your GMAT scores?
Many business schools place a premium on the entire GMAT score, which means you can compensate for weaknesses in one area by excelling in another. If your mathematical skills are better than your verbal skills, for example, they'll help you raise your overall score, although some of the more selective schools like to see balanced math and verbal sub-scores.