IELTS Writing Target 9 Band Essays is a Target 9 Band Essays samples to help you get familiarised with the format of  IELTS Writing band 9 essays.
IELTS Writing Target 9 Band Essays
This book contains more than 50 band 9 essay samples. the following sample is one of them.  
Sample:
The line graph below shows the percentage of tourists to England who visited four different attractions in Brighton. Summarize the information by selecting and reporting the main features and make comparisons where relevant.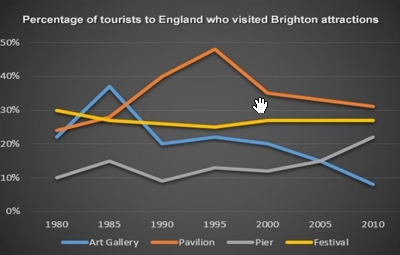 Answer:
The polyline graph illustrates the proportion of visitors to England who went to four separate tourist attractions in Brighton between 1980 and 2010.
Overall, it is clear that the percentage visiting the Pavilion and the Pier increased over the period. While the proportion of travelers to other attractions decreased.
In 1980, only 10% of tourist to England went to Pier. Despite some minor fluctuations, this figure rose from around 9% in 1990 to 22% in 2010. The percentage visiting the Pavilion also increased, from approximately 23% in 1980 to almost 50% in 1995. However, this figure then decreased significantly, to about 35% in 2000 and then to roughly 31% in 2010, slightly higher than the Festival.
The most popular Brighton attraction in 1980 for visitors to England was the Festival. Although 30% of these attended the Festival in 1980, by 2010 this percentage fell slightly to 28%. In 1980, the figure for tourists to the Art Gallery was 21%. It then grew to a peak of around 38%, before falling noticeably to exactly 20% in 1990. It continued to drop to less than 10% in 2010. It was, therefore, the least popular attraction at the end of the period.
Final Note:
This was our Target 9 Band Essays Writing book. I hope that you are going to get the best out of it  You can get this book from the link below. Good Luck!