The Official Guide to the TOEFL 4th Edition or the Official Guide to the Toefl iBT, by Educational Testing Service "ETS", was published on August 29th, 2012.
The book was published by the American learning company "McGraw-Hill Education". McGraw-Hill Education considered one of the biggest three educational publishers in the US.
This book is the number one and only bestselling official guide to the TOEFL iBT, from the makers of the test.
The Official Guide to the Toefl iBT 4th Edition
This Official Guide to the TOEFL Test is the best book to practice the TOEFL iBT test, simply  Because it was written by the TOEFL test makers "ETS".
Another reason that makes this book the only bestselling TOEFL practice book that the questions of the tests in this book are equal in difficulty to those of the actual test.
The tests in this book will actually provide you a simulation of the actual TOFEL iBT and its CD will give you a real experience of the TOFEL computer test.
Book Features
The book contains 3 Full-Length Practice Tests plus a couple of drills for the reading (5), listening (5), and writing (2). There is also a Diagnostic exam offered in the beginning.
It includes real TOEFL questions for practice, as well as explanations of every section of the test and information on what is expected for every speaking and writing task.
You will learn how to construct a good answer and how to integrate speaking, listening, and writing skills to demonstrate college-level English proficiency.
You will also find :
600 real TOEFL questions from the test-makers.
Online access to authentic TOEFL iBT practice tests.
Strategies for success.
More About This Book
This is the most reliable guide to the TOEFL test that is used around the world to assess foreign applicants to U.S. and Canadian universities for English proficiency.
This is a must-have TOEFL book if you're preparing for the TOEFL test, but still NOT enough for the TOEFL preparation. Because it is not a step-by-step guide, but you can use it to test yourself with real TOEFL tests and familiarise yourself with the iBT test.
You must get this book to improve your chance of passing the TOFEL test since it is a simulation of the actual test. Even if you have no clue of how the TOEFL test is like, this book will give you a very accurate overview of the test.
You can get this book from the amazon affiliate link below and support us with a tiny commission or just simply search on it on the Amazon website.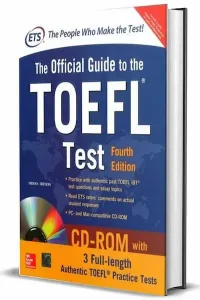 Note:
You can now check the 5th Edition of The Official Guide to the TOEFL.