IELTS Actual Tests Reading Listening 2019 (PDF+Audio). The book has 10 Reading IELTS Actual Tests 2019. and 10 Listening IELTS Actual Tests 2019. That they are gonna help you to get well prepared for the IELTS test. 
You can get the new IELTS Speaking Actual Tests 2020 pdf and audio and improve your IELTS speaking.
IELTS Actual Tests Reading and Listening 2019 (PDF+Audio)
Download the IELTS Actual Tests Reading and Listening 2019 PDF and Audio.
The IELTS exam:
The IELTS exam is administered by three organizations, namely British Council, IDP and Cambridge ESOL Examinations. They prescribe the respective syllabus of IELTS 2019 for both the formats, i.e. IELTS Academic and IELTS General Training.
According to the IELTS 2019 syllabus, the IELTS exam consists of four compulsory sections – Listening, Reading, Writing and Speaking sections.
The IELTS syllabus 2019 also states that the Listening and Speaking sections would be the same for all the test takers, but the Reading and Writing modules would be different for Academic and General Training test modules.
The test of IELTS is designed to reflect the real-life usage of the English language at study, at work, and at informal/social gatherings. IELTS results are scored on a unique 9-band scale. 
Exam Pattern of IELTS 2019:
It is vital for all the prospective test-takers to know the IELTS 2019 exam pattern and the IELTS syllabus 2019, so to be able to prepare accordingly. Candidates can read the below information related to the same:-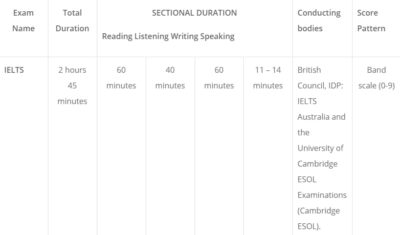 As per the IELTS  test pattern, the Listening, Reading and Writing tests are conducted on one day while the speaking module may be taken on the same day or within seven days prior or after the test.
Therefore, while choosing for a particular IELTS test date during the application process of IELTS 2019, candidates should ensure he/she is available at the test centre on the given date pertaining to the Speaking test. Respective institutes would have their deadline to receive the IELTS 2019 result; so candidates should calculate the time period.
Note:
The reality is, the only way to learn something new is to practice. You have to practice to become an expert at something. So try to practice as much as you can to do great in the test.
OR