New Headway Pre-Intermediate is the world's most trusted English course A perfectly-balanced syllabus with extensive resources for Pre-Intermediate students.
• In-depth treatment of grammar.
• Integrated skills throughout.
• Full support in print, on disc, and online.
Headway Pre-Intermediate 4th ED
The world's best-selling English course – a perfectly-balanced syllabus with a strong grammar focus, and full support at all six levels. With its proven methodology, Headway is the course you can always trust.
The strong grammar focus, clear vocabulary syllabus, and integrated skills work give you lessons that really work in class. Constant updates mean the material is always current, and with a huge range of components available – including new digital resources for interactive whiteboards – you've always got support where you need it. New Headway Pre-Intermediate.
For students
Student's Book with iTutor DVD-ROM.
Workbook with iChecker CD-ROM with/without key.
Student's website for extra practice and games.
For teachers
Teacher's Book with Teacher's Resource Disc.
Class Audio CDs.
iTools for your digital classroom.
Teacher's website for resources and ideas.
New Headway (PDF+Audio CD+Video)
The most popular adult course published in the last 20 years. Headway is a set of tutorials from Beginner to Advanced levels. Today Headway has become synonymous with an integrated approach to learning English, which provides competent and fluent command of the language.
First of all, it is a complex for systematic deep learning of English.
At each level, students master the lexical and grammatical material (grammar is given systematically, with an explanation of the rules), the functional aspect, the language of everyday communication.
Much attention is given to the development of colloquial speech both separately and in a complex. And the introductory textbook New Headway English Course Beginner (100 hours) is designed for students who are not familiar with the Latin alphabet, who start learning English from scratch.
The best-selling series with a proven methodology – a course that teachers can trust in the classroom.
Key features:
A clear, structured approach to grammar. Grammatical structures are introduced in context, with questions that encourage students to work out the rules for themselves. A comprehensive 'Grammar section' at the back of the Student's Books provides a useful reference before, during, or after the lesson.
A well-defined vocabulary syllabus concentrates on three key areas: learning new words in lexical sets; acquiring good habits for learning vocabulary; and developing vocabulary `systems ' such as sound and spelling relationships.
Integrated skills work. In every unit the reading and listening activities contextualize and bring together much previously introduced language. The unit-by-unit writing sections in the Student's Books help to develop students' written English in a range of situations and registers.
Supportive Teacher's Books at each level include an explanation of the methodology, step-by-step lesson guidance, additional activities, photocopiable tests, cultural notes, and detailed answer keys.
Teacher's Resource Books provide photocopiable games and activities to supplement the main course materials.
Workbooks at each level of offer a range of outputs to revise and extend the grammar and vocabulary covered in the Student's Book, plus extra related input where appropriate.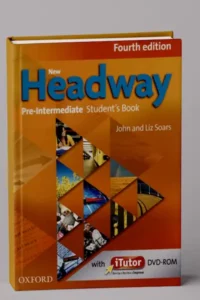 SEE MORE:
New Headway Intermediate