Princeton Review TOEFL iBT Prep 2021 book or Cracking the TOEFL iBT 2021, by Princeton Review, was published on February 2, 2021. 
This book was made by the experts at The Princeton Review who have been helping students, parents, and educators achieve the best results at every stage of the education process since 1981. 
The Princeton Review has helped millions succeed on standardized tests, and also provides expert advice and instruction to help parents, teachers, students, and schools navigate the complexities of school admissions.
Princeton Review TOEFL iBT Prep 2021 Book
Princeton Review TOEFL iBT Prep 2021 will provide you with Practice Test, Audio,  Strategies, and Review. Cracking the TOEFL iBT 2021 will give you all the prep you need to ace the Test of English as a Foreign Language with a full-length simulated TOEFL iBT test, audio sections available as streaming files, thorough reviews of core topics, and proven strategies for tackling tough questions.
Techniques That Actually Work.
Step-by-step strategies for every section of the exam.

Lessons on how to identify the main ideas of a passage or lecture.

Tips on how to effectively organize your ideas.
Everything You Need to Know for a High Score.
Grammar review to brush up on the basics.

Expert subject reviews for the core concepts of the TOEFL iBT.

Comprehensive guidance on how to write a high-scoring essay.




 
Practice Your Way to Perfection.
1 full-length simulated TOEFL iBT with accompanying audio sections available as streaming files online.

Practice drills for the Speaking, Listening, Reading, and Writing sections.

Detailed answer explanations for the practice test and drills.
Princeton Review TOEFL iBT Prep 2021 Book Review
The Princeton Review TOEFL iBT Prep 2021 is an updated version of what used to be called "Cracking the TOEFL" The new name is better, but sadly this isn't a very good book. It is inaccurate, and it badly needs a good editor. And some basic research. I'll go into detail about what is bad about the book in a moment, but I guess we should start with the good, right?
The book begins with about 170 pages of skill-building exercises connected to the "core concepts" of the TOEFL (reading, listening, speaking, writing). This stuff is pretty good. I really like that the book begins with a whole lot of academic reading practice and questions that students can work through to hone their reading skills.
None of these questions are actually TOEFL questions (which could be confusing) but they are about the content contained in TOEFL-style articles. A lot of students need to really improve their reading skills and start looking at real TOEFL questions.
The core concepts stuff about listening is much sparser (9 pages vs 72 pages) but those nine pages are fine. I can't help shake the feeling that Princeton Review made this section short just because creating listening content is much more expensive than creating reading content. Maybe I'm just crazy.
The speaking concepts chapter is a bit weird in that it blends TOEFL speaking questions with questions that are totally not TOEFL speaking questions. It also includes some of the speaking question styles that were removed from the test last year. I know this is just skill-building stuff.
The writing concepts chapter is, again, a mix of TOEFL and non-TOEFL questions. It has some fine exercises. It includes a chart of useful vocabulary (which is nice) and a laughably basic page on grammar terms.
There are a lot of books containing this sort of skill-building content, but I honestly would recommend this one to you because it has some value, especially for beginners.
You can get this book from the amazon affiliate link below and support us with a tiny commission or just simply search on it on the Amazon website or at any other library.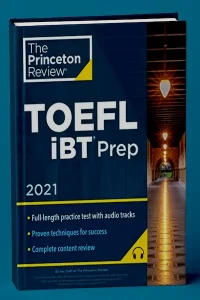 Note:
You can also check Princeton Review TOEFL iBT Prep 2021 and  Cracking the TOEFL iBT 2019.