Here is my TOEFL speaking books list, these TOEFL speaking books will help you to do well in your TOEFL speaking test.
I've collected these books over many years, so I thought it would be fun to put them together in a single post. These aren't all the books that you need to study for your TOEFL exam speaking test, but they are some of the very best.
This updated book is developed exclusively for ESL students studying for the TOEFL and includes updated terminology that is most frequently heard on the exam.
Students can assess their TOEFL vocabulary mastery by taking the practice exam with answer key that is offered, which is designed to assist students assess their progress and gain confidence in their vocabulary abilities.
It includes:
Phrases and "purpose" words (for example, define, discuss, claim, etc.) that are used in the speaking and writing sections of the test

New words and phrases, since you are often asked to explain the meaning of a phrase

Lists of vocabulary words with definitions, sample sentences, and practice exercises for 500 need-to-know words

Detailed advice to help students expand their English language vocabulary, and more.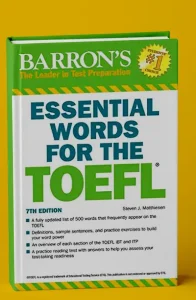 TOEFL Speaking Success is a comprehensive guide for any student preparing for the TOEFL speaking section, or any teacher who is looking for a new approach to TOEFL speaking.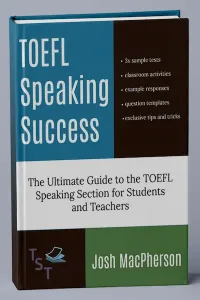 This book can assist you if you are feeling overwhelmed by the TOEFL's complexity. It guides you through the integrated part of the test's activities and provides ideas and solutions for the many question types you'll encounter.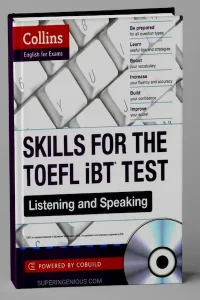 Boost your TOEFL iBT score by improving your speaking and writing abilities. How? Using a technique known as argument mapping.
What is the purpose of argument mapping? Because the speaking and writing components of the TOEFL iBT are all argument-based activities.
That is to say, if you want to get good marks in the IELTS speaking test, you must be able to plan (create and present) spoken arguments swiftly and effectively.
You'll be able to do just that with argument mapping. Best of all, argument mapping can be used for all six speaking tasks.
As a result, you'll spend less time reading about methods and more time putting them into practice.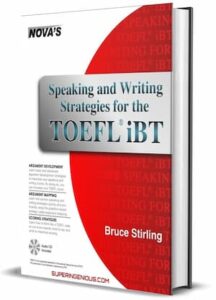 TOEFL iBT Prep Plus 2020-2021 from Kaplan teaches you the most critical language skills and methods you'll need to ace the test, which is required globally for foreign students who wish to study abroad. Master your reading, writing, listening, and speaking English skills so you can take the TOEFL with confidence.
This book includes:
Four full-length online practice tests with detailed answers and explanations.

More than 450 practice questions to help you get comfortable with the test.

Focused practice for each section of the test helps you reinforce critical concepts.

More than 95 minutes of audio for Listening, Speaking, and Writing sections included on CD and online, plus complete transcripts in the book.

Exclusive score-raising tips and strategies for each language skill: Reading, Writing, Listening, and Speaking.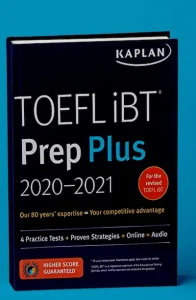 The new edition of Barron's TOEFL iBT has been entirely revised to meet the new TOEFL format and includes flexible study alternatives as well as essential skills review to help you learn what you need to know for the test.
When completing the online practice test, we learned that your answers to the speaking segment are automatically recorded and downloaded to your computer (assuming you have a functioning mic). As a result, you won't need to use another device to capture your speech. This functionality was not found in any other prep book.
The format of the questions on the integrated speaking tasks differed from that of the real test in certain cases. As a result, we recommend that you examine practice questions from ETS in addition to this book for the best outcomes.
This book includes:
Eight full-length TOEFL iBT practice tests with answer explanations in both the book and online.

8 one-hour practice tests.

A review of required academic and language skills with four video lessons and a grammar review that supports the Speaking and Writing Sections.

An online pronunciation guide that features over 200 campus flashcards with vocabulary terms and example sentences.

MP3 audio files online for all prompts.

A general overview of the TOEFL iBT.

PowerPoint review presentations with handouts and resources for tutors and teachers.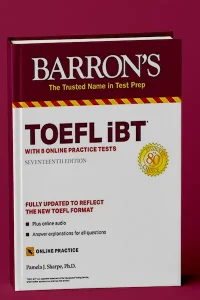 The Official Guide to the TOEFL iBT Test is the most comprehensive and trustworthy guide to the test, which is used to meet English-language competence requirements at over 10,000 universities across the world.
The question types on the two sub-sections of the speaking section are well described in this chapter. What are the differences between independent and integrated speaking tasks.
The book includes audio examples for each of these speaking questions. To hear these examples, you'll need to access the audio files.
The independent and integrated components of the speaking test are then given a comprehensive scoring rubric. When analyzing your speaking response, you should utilize this rating rubric. This chapter does not include any speaking practice drills.
A page of "tips and techniques" for preparing for and taking the practice speaking section may be found here. This section also contains answers to frequently asked questions about the speaking segment.
In general, we thought the tactics in this chapter were lacking. Given how many TOEFL test takers struggle with the speaking component, we had high hopes for this chapter.
The Official Guide to the TOEFL iBT Test, Sixth Edition includes:
4 full-length practice TOEFL tests (available in the book and online for download).
Hundreds of authentic TOEFL test questions and essay topics.
Test-taking strategies directly from the test maker.
 Answer keys, self-scoring guides, and more.