Taking the TOEFL exam is a stressful experience. Having good TOEFL prep books is essential to meeting that challenge. There is a number of books available on Amazon, but only a few are worth your money.
Here are the Top 10 TOEFL Prep Books 2022.
[lwptoc]
Barron's "Essential Words for the TOEFL," which focuses on vocabulary, helps test takers prepare for the enormous number of words and phrases they'll encounter on the TOEFL. 500 must-know general TOEFL vocabulary words are defined and illustrated in this book.
It also defines essential "purpose" terms included in the writing and speaking components of the exam (such as "discuss," "define," and "for example").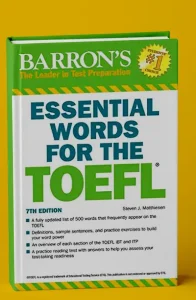 9. Trivium Test Prep's TOEFL Preparation 2021 – 2022
This is a quick but total review of everything tested on the exam with current, real examples, graphics, and information. These easy-to-use materials give you that extra edge you need to pass the first time.
We considered the material of this book to be rather minimal, with only 24 pages devoted to studying the TOEFL iBT's four components. The majority of the strategies in this book – albeit a small number at first – are either deceptive or, at best, general.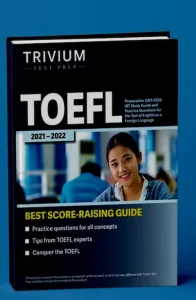 This TOEFL prep book, written by Mometrix, teaches students how to do well on the reading, listening, speaking, and writing components of the exam. To assist identify deficiencies, students can examine high-quality practice questions, watch video lectures covering a variety of key subjects, and read extensive answer explanations.
This comprehensive guide also includes subject-specific tips for passing each of the TOEFL's four sections.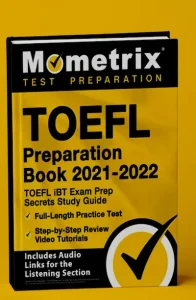 7. Test Prep Books' TOEFL Preparation Book, 2020 and 2021
Test Prep Books' top-rated TOEFL book lays out proven tactics for acing the TOEFL's reading, speaking, writing, and listening sections.
It includes:
Quick Overview.
Test-Taking Strategies.
Introduction.
Reading.
Listening.
Speaking.
Writing.
Practice Questions.
Detailed Answer Explanations.
Students can test their knowledge with a range of practice questions before checking their work with the full answer explanations provided in the book.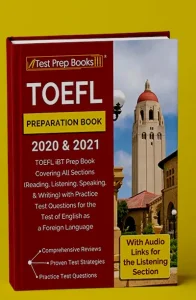 6. The Princeton Review's TOEFL iBT Prep, 2022
This high-quality TOEFL prep book includes practice drills for each of the exam's four sections in addition to presenting established test-taking tactics. Students can brush up on basic grammar, expand their vocabulary, and learn how to write an effective English essay.
It also offers a full-length simulated practice exam so students can become familiar with the TOEFL's format and pace.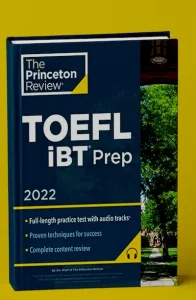 The TOEFL guide from Kaplan helps students improve their listening, writing, reading, and speaking skills in English. Four complete practice exams that closely resemble the real exam, as well as more than 450 example questions with answer explanations, are included in the book.
It includes:
Four full-length online practice tests with detailed answers and explanations.
More than 450 practice questions to help you get comfortable with the test.
Focused practice for each section of the test helps you reinforce critical concepts.
More than 95 minutes of audio for Listening, Speaking, and Writing sections included on CD and online, plus complete transcripts in the book.
Exclusive score-raising tips and strategies for each language skill: Reading, Writing, Listening, and Speaking.
Students can obtain access to online materials such as self-paced video tutorials from TOEFL specialists by purchasing this book.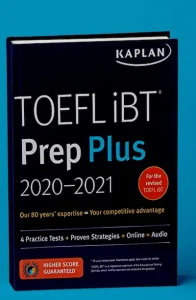 This thorough TOEFL preparation book includes techniques and tips to assist students in mastering the skills required to pass the exam. Students can view expert-led video lectures and study with over 200 digital flashcards to grasp the important concepts behind each test segment.
It includes:
Eight full-length TOEFL iBT practice tests with answer explanations in both the book and online.

8 one-hour practice tests.

A review of required academic and language skills with four video lessons and a grammar review that supports the Speaking and Writing Sections.

An online pronunciation guide that features over 200 campus flashcards. with vocabulary terms and example sentences.

MP3 audio files online for all prompts.

A general overview of the TOEFL iBT.

PowerPoint review presentations with handouts and resources for tutors and teachers.
With eight TOEFL practice examinations included in Barron's book, students can gain test-taking confidence.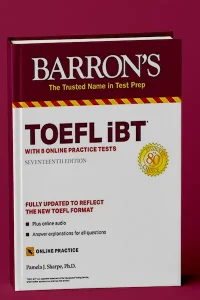 Official TOEFL Tests, Volume 2 provides you with all of the resources you'll need to get the best score possible on the TOEFL. This ETS book includes five TOEFL exam forms with authentic reading, hearing, speaking, and writing questions, as well as an answer key for each form. This third version incorporates all of the most recent revisions and modifications to the test.
You'll also gain access to all five interactive tests online, as well as a downloadable audio file containing all of the passages and sample replies from the listening and speaking sections. To demonstrate English competence, you will learn how to build a suitable answer and how to connect your speaking, listening, and writing skills.
It includes:
Interactive online versions of all 5 tests. All tests are accessed via a unique code.
Sample Speaking and Writing responses.
Audio files and written transcripts for all listening passages.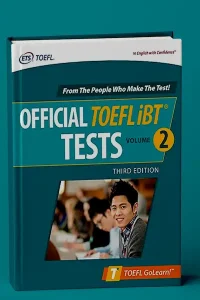 This resource, written by the company that creates and administers the TOEFL exam, includes recently withdrawn test forms, allowing students real-world TOEFL writing, listening, reading, and speaking practice.
Five full-length TOEFL tests (in the book and online), authentic TOEFL essay prompts, and sample responses for the speaking and writing parts are all included in this book.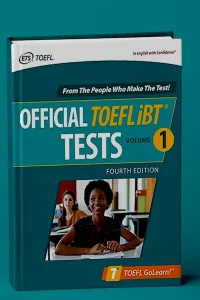 This comprehensive handbook, created by ETS, the TOEFL's creators, assists students in combining their reading, writing, listening, and speaking skills to demonstrate their English competence on the TOEFL.
Hundreds of practice questions and sample essays that are closely linked with those found on the test are available for students to review. Four full-length practice tests (both in the book and online) are included, as well as detailed explanations for each exam section.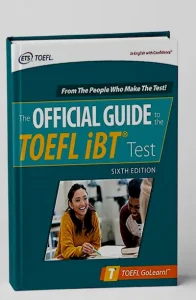 You can also check The Best TOEFL Preparation Courses